Can't wait to explore Big Bear Mountain during your next vacation?

Whether you're coming to enjoy an exciting weekend getaway or a week-long excursion to the beautiful Southern California mountains, Big Bear Mountain has you covered with a wide variety of lodging options.

Take a look below at all of our lodging partners, and see what fits best with your plans!
---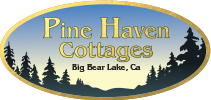 Pine Haven Cottages - Lodging in Big Bear Lake, CA
The Blauer family has owned and operated Pine Haven Cottages for over 60 years. We pride ourselves on our family run atmosphere. You are invited to come and enjoy one of our rustic Big Bear Cottages from studios to family cabins. We are located on three acres, in the heart of Big Bear Lake, just off Big Bear Blvd and behind Blauer's Ski and Board Shop.
---

Destination Big Bear - Lodging in Big Bear Lake, CA
Destination Big Bear is one of the highest rated vacation rental companies in all of Southern California. Their team is ready to help you with any of your vacation plans so you can spend less time worrying about logistics and more time enjoying this picturesque mountain town, which offers opportunities for adventure as well as relaxation.